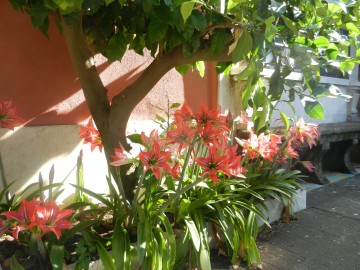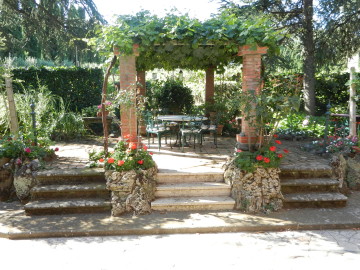 Testimonials
Our Past Guests to Share their Experiences
The Casale Sonnino is a great year-around destination for travelers of all ages. Below is a sampling of guests testimonials organized by season. Please continue to scroll down to see your favorite time of the year.
Spring
Great TV Show Location
We filmed at Casale Sonnino for a large UK reality series.
We had such an excellent service from the owners. They really went above and beyond to accommodate our filming needs and requests. The owners know the area so well and had great recommendations for places to film in the area.

The Casale itself is beautiful, surrounded by vineyards and olive groves with beautiful interior. The owners were super flexible with us moving furniture and utilizing all areas of the Casale and grounds, including the amazing tunnel system that runs underneath.

Was very helpful to have George (owner) on hand to help troubleshoot any queries.

Decent sized car park and space to put a generator. The Casale is nice and secluded so our filming was not interrupted.

Would definitely recommend as a location for a film or TV Show!
A Perfect Week in a Classic Italian Setting
We are a well travelled family of five who had the pleasure of staying at the Casale during Easter week. After renting our car at Rome's FCO airport we were on our way to the Casale. The GPS directions and Claire's maps and written directions made getting to the Casale quite easy. As we arrived and approached the gates we where amazed. What an entrance! This is the quintessential Italian country villa in a beautiful setting. The house is perched atop a hill that overlooks olive groves and rows of grape vines. George the owner, caretaker and renaissance man greeted us as we arrived. He expressed a warmth and gratitude that made us quickly realize that we would be in good hands for the week. George and the staff are there if you need them or if you wish for privacy then that can be easily managed as well. After a tour of the house we settled in for a fabulous welcome lunch and a nice chat with George about the history of the Casale as well as the surrounding area. The house is beautiful and there are fantastic views from all of the rooms and open air top deck. We would sip local wine as the sun set over the hills during the evening. Each morning we enjoyed a continental breakfast and great coffee before setting out on the days adventures. There is a train station approximately 3km and a metro station about a 15-20 minute drive from the Casale making it an easy journey into Rome. The surrounding towns are great to visit and George gave us a nice driving tour of the surrounding villages. There are local grocery stores close by as well as some great restaurants. The kitchen is very well equipped and has a great collection of copper pans for cooking. We ended our week with so many great memories and we felt as though we were leaving good friends as George bid us farewell. If you want the genuine Italian experience with a beautiful place to stay and a caring wonderful staff then look no further than Casale Sonnino.
Words alone cannot explain this gem Casale Sonnino
My wife and I are experienced travelers. We have used hotels for our base, while touring areas within the vicinity. We thought it was a convenient and easy approach to vacation in a foreign country. Then we heard about Casale Sonnino from Claire Treves Brezel, the owner of this gorgeous gem.

The difference was like night and day. First this is a Villa, not a hotel room. There were 5 rooms down stairs (kitchen, dining room, living room, den and tv room) and at least 5 bed rooms. We were greeted by George (Claire's brother) who runs the day to day operation at the Villa, and taken to our rooms.

Then we were treated to a beautiful lunch and history of the Villa. George couldn't have been more accommodating. He explained the train service and towns that were within driving distance of our home away from home. Because that is how we all felt at home. Each morning we awoke to the smell of fresh coffee and breakfast made by the young women at the Villa. Cleaning and laundry service were also done by the same women.

After a long day of sightseeing it was a pleasure to come home to Casale Sonnino and relax around the fire with a glass of wine or cup of coffee and talk about what we saw or what to do the next day. George also took us for a tour of the tunnels under the Villa. The history was very interesting.
This is truly a gem that should not be overlooked if you plan on going to Rome. The hospitality and friendly staff make you feel like it's your home and they are there just to help. Not one of us wanted to leave.
Home Away From Home
Having the Casale Sonnino as our home base transformed us from tourists to residents. It was a pleasure waking up to the smell of strong Italian coffee. Starting our day with beautiful views outside our window of olive trees and vineyards could not have been better.

Having our friends under one roof, our days' experiences became endless. After a full day of sight seeing, hanging out in the Casale living room with friends was the perfect way to recount and relax. We enjoyed drinking our new favorite wine, Frascati Superiore. Our discussions with George, our concierge and Sonnino family historian, were as informative as they were fun.
Better Than We Dreamed
We wanted to establish a base for sightseeing, something near Rome but with a more rural feel. Casale Sonnino met and exceeded our expectations. At the Casale, we were free to experience the culture and rhythm of Italy. We loved being able to pad down to the kitchen in our robe and slippers for coffee and delicious local pastries and fruits. We liked being able to plan our days based on the weather and our energy levels, taking shorter trips to quaint nearby hillside towns on days that we didn't have the energy to power through a day in Rome. The carefully prepared packet of information on sights to see in the area was full of fascinating day trips. We were able to experience local cuisine at nearby restaurants as well as walk about the towns in the evening, immersing ourselves in the sights and sounds of local life… Each morning, I couldn't wait to open the curtains, shutters and windows to gaze out over the vineyard and olive trees. One day workers in bright red shirts were topping the olive trees, another day I could hear the cook in the kitchen and smell coffee so I followed my nose downstairs. Staying at the farm felt authentic to me and consequently I fell in love with Italy.
Wonderful Villa Overlooking Rome
We were 3 well travelled couples exploring Rome and the surrounding regions for 13 days. Casale Sonnino was the perfect place to stay with easy and quick access to the trains to Rome 10 minutes away in Frascati with many fine local dining options. Claire was a pleasure to deal with in making the arrangements and her brother George was a fantastic on-site host. He is most accommodating, informative and great company for a late night glass of their own estate grown wine. The setting is spectacular and the upper deck is perfect for sunsets over Rome. The villa is beautiful with a very interesting history. The beds were all very comfortable and the daily breakfasts and maid service were great. Having our laundry done was a special treat that we all appreciated. We had a wonderful time. Highly recommended!
Our Wedding in Italy
It is hardly possible to put in words all the wonderful things about Casale Sonnino. Your stay will certainly be beyond your expectations and I can only recommend that any traveler to the Rome area leap at the opportunity to bring this beautiful home, its loving family and caretakers and the many inevitable memories and exciting experiences into their lives. We stayed at the Casale for 1 week in May with a group of close friends and family (7) and a 6 month old baby. For all my research to find the best lodging which could accommodate our group for our wedding in nearby Tivoli, the Casale seemed a beautiful and practical choice…

Every member of our group still longingly reminisces about our time together at Casale Sonnino and keeps the carved words from the mantle in our hearts – "We shall return". Our advice to future guests: take the tour of the Casale's caves, spend a day in Frascati, Monte Porzio & Tivoli, get to know the hosts, walk to the end of the rose arbor and down the stairs to the sitting garden, rent a car, buy the pesto at Frascati's grocery store, let the ladies wash your clothes and make morning coffee (wow!), don't forget Rome, ENJOY EVERYTHING!
Summer
Heaven On Earth
My family and I stayed at Casale Sonnino for 10 days at the end of August to celebrate our daughters Sweet 16. There were 6 of us, my husband, myself and 4 teenagers. Everything was perfect, Claire and George guided us every step of the way with recommendations and suggestions to help make our trip perfect. In addition the staff at the Casale go above and beyond. They made sure we had everything we needed and more. The breakfast each day and the Sweet 16 celebration dinner that were prepared for us at the Casale was just perfect and absolutely delicious. The grounds are very well maintained. There is plenty of room and the location of the Casale was great. We will definitely be going back. Thank you for making our trip so wonderful and memorable.
Beyond anything we could have imagined!
Our family stay at Casale Sonnino was beyond anything we could have imagined! True, we expected what we saw in the photos and what information we had from our conversations with Claire. . . so our expectations were pretty high. The surprises lay in the reality of immersing ourselves into the authenticity of Casale Sonnino: the kindness & genuine warmth of George and the staff; the awesome beauty of the vistas that surround the Casale for miles & miles into the distance (think — acres of undulating plains, vines & olive trees, with metropolitan Rome ever in the background); the cleanliness & comfort of bedrooms & baths; the incredible luncheon spread — such a welcomed surprise upon our weary arrival; the delectable coffee/breakfasts (& cleanup) served with smiles & laughter every morning; the most welcoming outdoor pergola where we could so beautifully relax as a group; the top floor deck with it's unsurpassed views of Rome & the countryside; George's fascinating tour of the caves beneath the house & his family history; the riotous bloom & scent of spring flowers (jasmine! evergreen! roses!) ever present in the air. All in all, Casale Sonnino literally reverberated with pulse of our family group of eleven!! Our group spent an incredible week listening to music, visiting the many villages close by (Tivoli Gardens, a personal favorite), claiming a quiet spot to read or chat or discuss the day, using the charming & well-equipped kitchen to prepare meals. What we loved most was the drop-dead gorgeous views of the Italian countryside from every window & every garden resting placeliving in a painting! We are grateful to Claire & George for sharing such a paradise with our family. . .
Absolutely Beautiful & the Friendliest Staff!
From the opening front gate, we could see that this place was very special. As we drove down the long, tree-lined driveway, we were surrounded by olive trees and grape vineyards. Pulling up to the historical villa, we noticed the manicured gardens and strolling paths leading in all directions. Birds never stopped singing their joyful songs as the day progressed.

Once inside for the first time, we were greeted by the house chef and her assistant, along with the Proprietor, George Treves. We were directed to the dining area where we enjoyed a welcoming feast of Italian meats, olives, bread, assorted cheeses and wine! Thus began our week of fine Italian hospitality that we as a Family will never forget.

Beautiful accommodations, delicious breakfasts every morning and views of the surrounding countryside that were breathtaking. Our favorite time each day was watching the sunset from the roof-top terrace and toasting the end of day, usually spent exploring surrounding towns and countryside. Thank you, Casale Sonnino!
Travelling with Young Children
There were four young children in our party and so I was looking for a house with a hill top location, not far from Rome, where the the weather would be cooler as we were there in July. Casale Sonnino was perfect. There was a simmering breeze and enchanting gardens with shade.The beautiful historic house was spacious and had a well equipped kitchen. The dilemma was where to eat, out in the garden, in the large dining room or on the roof terrace. The roof terrace certainly won in the evenings where it was a delight to eat watching the amazing sunsets.

The location proved to be excellent. Monte Porzio Catone was more than adequate for provisions, for us there was a bonus of a cafe with a children's play area so we could sit with a coffee overlooking stunning views. We also loved the other hill top towns especially Nemi. The local train station at Colle Mattia which is only 3 to 4 minutes in the car from the house took us into Rome in just 30 minutes for only 2 euros per adult!
A Wonderful Experience
I don't think I can express how wonderful our stay at Casale Sonnino was but I will do my best. I will say that going in we had pretty high expectations based on the information that the owner provided. We were blown away by how much better it was than advertised. From the moment we arrived we were treated to first class service by a staff that truly seems to love what they do. The staff prepared coffee for us each morning along with setting out the breakfast items we had purchased. They even prepared a hot breakfast for us on a couple of mornings. Another huge plus was the fact that they did our laundry for us on a daily basis. We enjoyed all of our morning and evening meals outside under a vine covered pergola that sat between the house and the vineyards. The owner had cautioned us in advance that the proximity of the property to the highway might pose some traffic noise issues. I know that all of us slept with the windows open and the traffic noise was never a concern.
This is a Fabulous Place to Have a Family Reunion
Casale Soninno is a lovely villa overlooking Rome. St. Paul's dome is visible on clear days. We were a party of four couples and a single and we were very comfortable. A good breakfast was included and I paid extra for three excellent dinners including an eightieth birthday party for my wife held on the terrace with many additional guests. To avoid driving into Rome there is a suburban train station a five minute drive away with trains taking about 20 minutes into Rome Termini. Our host George Treves did a magnificent job in looking after us. All in all, it enabled us to have an outstanding family reunion.
Great for Our Entire Family – Amazing
We loved staying at the Casale. We went with 4 generations of our family and it was suitable for everyone. Our young boys especially loved exploring the grounds with their new best friends Dylan (the dog) and Mr. Chips (the cat). We also loved how convenient it was not only to go into Rome but to exploring other villages and there is a great lake nearby as well. The family especially enjoyed our last night dinner that the Casale organized for us, it was like our own private restaurant.
One-Day-in-Rome, One-Day-Discovering-the-Area Schedule
We adored our stay at the Casale, from the comfort of the beautifully restored villa surrounded by olive groves and vineyards to its ideal location on the outskirts of Rome…Frascati is a beautiful town located 10 minutes away, known for its delicious regional white wines that we truly enjoyed with amazing cheese, charcuteries plates and of course, pasta dishes and pizza! Frascati also has a large 24h supermarket which is extremely convenient. In the sweltering summer, we opted for a one-day-in-Rome and one-day-discovering-the-area schedule, and it worked out very well for us. Our kids loved going to the crystalline Lake Albano in Castel Gandolfo for a day of rest and relaxation, following a day of sightseeing in Rome. It was a perfect combo!
The Casale Sonnino is a glorious vacation destination!
What a beautiful Roman holiday! The Casale Sonnino is a glorious vacation destination. It offers spacious accommodation in the picturesque hills outside Rome. It's close enough to take the metro in from a nearby town to explore the city without driving and parking woes. Every morning, we were greeted with a huge continental breakfast prepared by the friendly Casale staff who asked happily do laundry daily. After breakfast, we either ventured into Rome or took day trips. A friend of the owner, Simeone Ricci, offered excellent guided adventures specifically created to our wishes. We definitely would never hav found intriguing locations like these on our own. Some of the trips included Campo Imperatore, St. Stefano di Sassiano, Mount Livata, Castelli and more.
Casale Sonnino was beyond our expectations
We were a group of 10. The Casale was clean, the staff excellent, the location great. Rome train station 5 minutes away. The southern coast was two hours away (Sperlonga and Sabaudia) beautiful beaches. We also went to Lake Albano 20 minutes away and many little villages close by. The Casale was beautifully appointed, the gardens and vineyards were so nice to wake up to in the morning, along with the bountiful breakfasts we were served everyday. I would highly recommend this Villa for anyone looking to take an Italy trip. We were 8 adults and 2 children and it was perfect in every way.
Casale Sonnino – A slice of heaven!
It was an absolutely wonderful and delightful stay, wit the house being all that was expected and more! We were warmly greeted by the caretakers, and of course the Captain of the house (the cat!). The arrival brunch was a multicourse masterpiece that left us both speechless as well as unmoving – after all that food, who could move! The days in Rome were an experience for our family (of 10!). While Rome was hot and somewhat stifling, Casale Sonnino offered a nice respite due to its higher position in the hills. During this whole time, our refuge of Casale Sonnino never failed to deliver. Every morning a scrumptious breakfast was laid out, the caretaker was instrumental in guidance and instructions, and I do believe I speak for everyone in saying that it was truly a lifelong memorable time. We were offered a unique view of the Casale Sonnino 'underworld' with a tour of the caves and wine catacombs – Amazing … and nice and cool!
Fall – Harvest Time
It was a wonderful place to celebrate a special birthday with family and friends
We arrived in late October to perfect weather with friends to celebrate our special birthdays. The villa is elegant but very unpretentious. The grapes and olives had already been harvested but we were still able to get a taste of what is involved in running a family farm. The villa's proximity to Rome made it easy for us to do day trips into the city by train. The real attraction, however, of the villa's location are the numerous small towns on the neighboring hills and the lakes Nemi and Albano. Visits for walks, cappuccino, pastries and wine were wonderful. George and Claire were perfect hosts and the meals prepared for consumption before a roaring fire were fabulous.
Absolutely Amazing Experience
I have been fortunate enough to have stayed at this charming villa four times, the last being September 2016. I can't say enough about the beautiful Casale, the warmth of the family and staff, and the surrounding area. The Casale Sonnino has working vineyards and olive groves and if you are lucky enough as we were to be there at harvest time we actually helped pick the grapes!! Close to Rome and situated near Frascati, it was always a treat for us to walk to the nearby hill town of Monte Porzio Catone – itself an untouristed gem. Everything about this wonderful Casale will make you want to return again and again. There is so much to see and explore in the area and the ease of getting around make it an excellent base for day trips. If you choose to have Tiziana and Giovanna prepare some meals for you are indeed in store for an amazing experience. From the natural beauty of the area to the ambiance of Casale Sonnino you will be enchanted.
Great Base for an Italy Vacation!
Great Vacation!!! We were two couples who used the villa as a base to explore rural Italian villages, for day trips to Rome, Mount Vesuvius and Herculaneum, and the Monte Cassino and Anzio battlefields. The villa was a perfect central location for us – about 25 minutes southeast of Rome. It really is a spectacular villa located among grapes vines, olive trees and tall cedar trees – it is an incredible place. There are beautiful views out every window, and the entire 25 secluded acres are surrounded by by fencing and a gated entrance. This 300+ year old villa has modern amenities – but still has old charm. This was the 1st time we had rented a property where the owner was on site (we had rented in France and in the US) – and it helped us more than we expected to have George on site. We loved the villa and property and would recommend this location for anyone that wants an unforgettable trip to Italy!!
Magnificent setting, ideal location, immaculate, great host and staff
This past October, we were traveling with friends who wanted a more unique experience than the typical upscale hotel, so looking for a bit of an adventure, we jumped in!

The Casale Sonnino was the single most important factor in making the our trip to Rome a success. It's a mansion-like villa that sits in the middle of an active vineyard and olive grove. The setting is inspiring, bucolic, and secure. The Casale itself rests on a foundation that is 2000 years old in parts, but the house is fully modern, spacious and absolutely immaculate. It's a quick trip by train or car into Rome, and a terrific base for exploring the best parts of Italy, namely the historic sites, small towns and vineyards within two hours of Rome.

George, the owner, is a wonderful host. He was born, raised, and educated in the US, so he speaks perfect English as well as Italian. He is friendly, accommodating, knowledgeable, but never hovers. He frets over every detail, and has a professional staff. We literally couldn't wait to wake up each morning after a good night's sleep in comfortable beds to the waiting breakfast spread overlooking ancient Roman hills.

After a long day of sightseeing, we had this beautiful villa to ourselves, including a full kitchen, dining room, and living rooms. These evenings were our favorite part of the trip: we relaxed, ate, drank, talked, surfed the net, and watched a little TV in this incredible mansion.

We all agree that the Casale was an excellent value. We got 4-star service, plenty of space and comfort in a place that we could really call home.
Ideal mix of Rental and B & B
Rome is a great place to travel to any time but our visit to Casale Sonnino made this trip truly special. Renting at the Casale provides all the benefits of having a beautiful villa to yourselves with the incredible bonus of a very accomodating host, breakfast, and even laundry service.

We were a three generation family of 6 with some diverse interests and all of us had an amazing time. George clued us in to the best local sites and restaurants, and a highlight of the week was the party at the end of the wine harvest hosted at the house for all the workers. I think I ate more at that party than the rest of the week combined! We had a great mix of a few days touring locally, one lazy day just at the Casale, and a number of days taking the commuter rail into Rome.

The common rooms are sumptuous and the bedrooms and bathrooms are modernized and comfortable. We loved the tour of the house's ancient Roman tunnels and George's amazing stories about the house and his family's history.

Many thanks to Claire and George for an unforgettable family vacation.
When in Rome
For my wife and I, Casale Sonnino turned out to be an ideal base for enjoying our favourite pastimes which included visiting art galleries, sightseeing in Rome and surrounding areas, playing golf, cooking and studying Italian. A ten minute drive to the train station in Frascati and a 30 minute train ride took us from the Casale to the central station in Rome from where bus and subway service is available to any destination in the city. Several golf courses can also be reached in about 30 minutes.

To the above list of favorite pastimes we can now add living at the Casale where the guests are thoroughly pampered by George, Tiziana and Giovanna. For foodies and wannabe Italian chefs, the kitchen is one of the best equipped we've ever seen. The kitchen table with its marble top and stowed away rolling pin was designed to make pasta from scratch…Our arrival for a 3 week stay coincided with the start of the olive harvest and we will never forget the delicious taste of the green unfiltered newly pressed oil on a piece of toasted focaccia.
Everything we read about it proved to be true
For one glorious week, my family visited Casale Sonnino and it could not have been better. Everything we had read about it proved to be true. The house was spotless, perfectly maintained and comfortable. Our host, George made us feel at home and very special. We were two grandparents, two parents and two eight year old boys and our every need was met with great enthusiasm. The highlight of our stay was the wonderful luncheon George threw after the grape harvest. Forty harvest workers and families welcomed us and fed us a fabulous Italian banquet. The commute into Rome was an easy 20 minute trip and the nearby towns were filled with wonderful restaurants and shops. We would not hesitate to recommend Casale Sonnino to our friends and family.
La Dolce Vita
We were six adults and a toddler (all family). We chose Casale Sonnino for it's size and location. Making the choice of Casale Sonnino and triple-checking all of the home details was handled easily and graciously by the owner Claire Treves Brezel… Our days were filled as we chose. We took the train into Rome, very easy, and toured the surrounding area filled with history and beauty. There was never a dull moment unless we so chose. Returning each day to Casale Sonnino was a welcome respite filled with excellent local wine purchased from local vintners minutes away and food purchased locally and prepared by ourselves or the staff ladies that was delicious each and every meal. Bedtime was always proceeded by the last bit of wine outdoors on the deck overlooking Rome and it's lights in the near distance. This is a holiday not to be missed by anyone wanting some "dolce vita". We will be returning guests.
Winter
We can't say enough about our magical stay at the Casale!
We arrived late at night, so we couldn't really see the grounds or even get a good feel for the home, however, when we awoke the first morning……WOW!! George and crew had a blazing fire in the magnificent living room fireplace, all the Christmas lights were twinkling, the dining room table was beautifully set, and the warm buttery croissants and freshly brewed coffee had our mouths watering. Then you see the view…breathtaking, (out every window) not to mention the rooftop deck. Speaking of that, if you've never experienced Rome over New Year's Eve, you wouldn't believe it!! We thought we would be enjoying a view of maybe one fireworks display, nope, it was as if the entire city was ablaze!! All we could do was laugh!! We couldn't believe what we were witnessing!! It was unlike anything we had ever experienced!! I would highly recommend this incredible home, I could go on and on, there is so much to see and do. Make sure when booking, if you need a tour guide to ask about Simeone, not only a world class photographer, but the most knowledgeable and interesting tour guide around!!
Thank you Claire for helping us plan an incredible trip, and George for being a most gracious host!!
A Perfect Christmas Vacation!
We spent 2 weeks at Casale Sonnino over Christmas and New Year. George was very accommodating for our large family. We had a wonderful breakfast every morning and enjoyed some lovely days lounging around the house. We were visiting family and hosted a Christmas Eve potluck and a catered New Years Eve party.

George and crew made the room beautiful, purchasing a large Christmas tree, which future guests can enjoy. And he even bought some fireworks for midnight on New Years Eve. The view from the terrace was amazing and so much more than we expected! We could see the fireworks all over Rome, absolutely stunning!

The dinner was catered by the restaurant and winery nearby, Agriturismo Palotta. Both the food and wine were delicious. We even visited the winery for a tasting prior to the party to choose our wines. The service staff were very accommodating at the house. We had many lovely evenings cooking in the kitchen. The olive oil is delicious and lucky for us they were just getting that year's oil ready. So we bought a couple liters to bring home. I would absolutely return without hesitation! I would love to go in the summer sometime to enjoy the gardens and the outdoor areas.
Spectacular New Years Fireworks and Floating Candles
Casale Sonnino is one of the many treasures to which we were treated during a marvelous Christmas week in Rome. We were greeted with a festive decorations and a wonderful breakfast upon our arrival and the delicious breakfasts continued throughout our stay… Frascati, the nearby town is a wonderful place to shop, eat and walk around. We loved spending afternoons there and had some of our best meals there at Pinnochio. New Year's Eve can't be described. At midnight the view of whole city from the terrace lit up with fireworks and the floating candles from Frascati made it like a fairytale! My 9 year-old daughter and 11 and 13 year-old nieces were in awe of the spectacle. My sister and I had visited Rome with our parents 30 + years ago and had Mont Blanc for dessert and never forgot it. When we came down from the terrace overlooking the city, George had had a spectacular Mont Blanc made for dessert. Highly recommended!
A charming base for exploring Rome and beyond
Our family spent 3 weeks at the Casale Sonnino over the 2012/2013 Christmas and New Year Holiday. We were delighted with our time at the Casale – the charming historic villa, attractive grounds, comfortable bedrooms, fabulous breakfasts, and delightful roaring fires every day put us in the holiday spirit. George gave us a tour of the interesting (and ancient) cave system that extends under the Casale and we were taken on a truffle hunt. Our teens enjoyed exploring the extensive vineyards and olive groves that surround the Casale and my brother and I hiked up to Monte Porzio Catone to enjoy the incredible views over the city of Rome and snow capped peaks in the distance. The local restaurants were excellent and the fresh produce in the shops was wonderful. We also found that the Casale was an excellent base for day trips to Rome, as well as for Tivoli (Villa d'Este and Hadrian's Villa), Pompei, Frascati and the Castelli Romani. The view of the fireworks over Rome on New Year's Eve has to be seen to be believed. We would recommend the Casale without hesitation for a memorable holiday experience.
Return Visits
Casale Sonnino is a grand base for visiting Rome & vicinity
In the Alban Hills, where leading Romans escaped the bustle of Rome, Casale Sonnino on its high airy site has a view of St. Peter's Basilica in the distance. I have stayed at the Casale three times: once with an art group, once with my children & grandchildren, and once with a friend.

You are close enough to Rome to be there in time to take the first tour at St. Peter's Basilica after enjoying the leisurely breakfast served indoors or in the garden. There are so many places that are within easy reach of the Casale that I list only those that I have visited. Some half day trips were to Frascati, Monte Porzio Catone, Monte Compatri, Tusculum, Hadrian's Villa, Villa D'Este, Grottoferrata, Castel Gandolfo, famous for Lake Albano and the Pope's summer residence, the Lake of Nemi, Subbiaco, the Cathedral & Museum of Palestrina, & Ostia Antica. Easy one day round trips were to the Gardens of Ninfa, Abbies of Valvisciolo and Fossanova, Tarquinia, and Citivacecchia. Travel by rental car or with car & driver arranged for by the owner of the Casale, or to Rome on the train.

At Casale Sonnino you live in a grand house in a grand manner.
Perfect for Artists
Since 1989 I have visited the Casale Sonnino once or twice a year with a group of my painting students. It has become like another home to me. The scenes around Monte Porzio are among the most beautiful I've ever painted and our side trips to other towns in the area add new dimensions to our already spectacular days. To be able to come home to a warm welcome and a delicious meal prepared by George and my favorite ladies Tiziana and Giovanna is a real blessing. Both body and soul are refreshed in this atmosphere. The changing light as viewed from the terrace is like what is described in Renaissance painting books – hard to believe until you experience it. Having visited the Casale over 30 times, in every season, I still can't wait for the next trip.
Feel "at home" while on vacation
Our family has been returning to the Casale Sonnino since 1995.  The charm of this place, its beauty, its' perfect location with proximity to Frascati, a lovely cospmopolitan town, Rome (30 minutes by train or car),  Autostrada A1 where day trips are possible to Orvieto, Assisi, Perugia to the North, and Pompeii, Sperlonga, even Naples to the South, make this a perfect vacation spot. Other towns within two hours are Siena, San Gimingnano, Montepulciano and Pienza. Surrounded by lovely hill towns in the Castelli Romani, staying at the Casale is always a wonderful experience.

We have enjoyed the Casale in all months from May to November.  Even the hottest months of July and August have been comfortable because of the cool breezes in the hills.

The Casale lends itself to many groups. As an artist I have brought fellow women artists with me to paint the incredible landscapes.  As a family we have spent a few seasons with our daughters (3) and grandchildren (now 8) at various times.  We have shared our love of this place with friends who have returned many times with us.
My husband is disabled with MS, and is currently using a walker and wheelchair, and with the help of Georgio and the housekeeper we are able to be most comfortable and they are so helpful to us if we need any kind of assistance or equipment.  Geppe has been available to drive us when we need it.

It is a pleasure to awake to a table set for breakfast, or to have our laundry dry and pressed.  We are truly made to feel 'at home' while on vacation.

There are limitless activities and places to explore.  From enjoying the "passegiatas" each evening in Frascati with its street markets and musicians to museums-an excellent estrucan museum exists in tiny Palestrina, just minutes away.  We enjoy most the leisurely lunches and wonderful local wines under the pergola surrounded by the vineyards and olive groves.

The Treves family maintains the property exceptionally well, are available for any assistance that one may need, and pride themselves on making each guest comfortable.

The Casale Sonnino has become for us a very special place. We look forward to our happy return.