Casale Sonnino – Your Roman Country Home
Welcome to our ancestral home! For over 30 years, Travelers have enjoyed a unique vacation experience staying in our lovingly maintained 18th Century villa and ancestral home, Casale Sonnino. The Villa is built upon 2000-year old foundations and set amidst thirty acres of working vineyards, olive groves, cypress trees and a magnificent Lebanon Cedar. It's small town village living, yet only 40 minutes by train to the heart of Rome.
Make the Casale Sonnino your perfect home base for exploring the beautiful hill towns of the Castelli Romani, touring the central Italian countryside from Florence to the Amalfi Coast and basking in the art, antiquities, and the thriving "la dolce vita" that is Rome.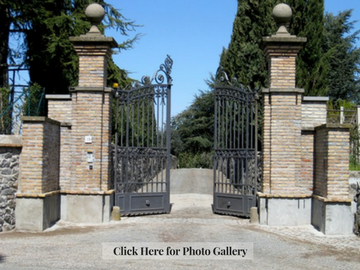 Our guests generally spend their days touring the countryside, sightseeing or going into Rome, but sometimes they just want to spend a day hanging out at the farm. They might pick grapes, help take the olives to the mill for crushing, explore the system of caves under the vineyard, or perhaps read a book under the garden pergola. A favorite activity is relaxing with a glass of crisp Frascati wine on the roof terrace at sunset. The panorama stretching from the illuminated eternal city to the Apennine mountain range shrouded in a purple dusk is truly exquisite.
The Casale sleeps 4 to 10 people (12 beds available) in 5+ bedrooms upstairs and 1 single bedroom on the ground floor. There are three full baths, 2 upstairs and 1 downstairs.
Being surrounded by the rich history and the warm hospitality provided by the English-speaking owner and local staff, makes a vacation at the Casale memorable. Traveling is easy when you can wake up to the aroma of fresh Italian coffee and return home to a clean house and inviting spaces to relive the adventures of the day.
As 5th generation owners, we welcome you to our cherished home – your home – for a week or two. Escape from the routine. Get away to a place where the seasons, history, art, food and wine enjoyed in the company of family and friends, renews the spirit.
Benvenuti!