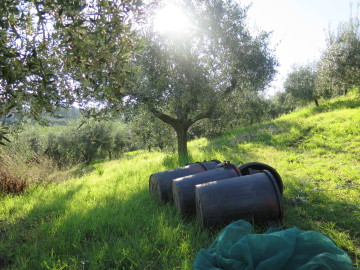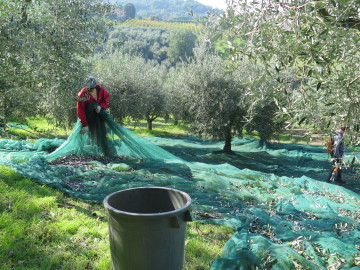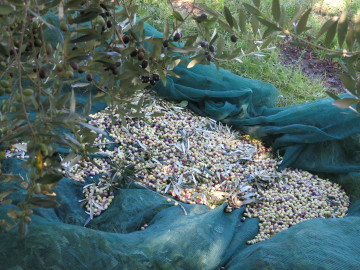 "Everything arrived safely. We are loving every bit of the olive oil. It just tastes like sunshine! Pass our thanks along to George and the farm crew for their handiwork and true craft."
Extra Virgin Olive Oil
Working Vineyard and Olive Groves
The Casale Sonnino is surrounded by 11 hectares of vineyards and olive trees that are cultivated and harvested according to the season. When staying at the Casale, be prepared for a tractor rolling by the front door or a spirited conversation in the farm office by the kitchen. Look for our great great uncle's wine awards from the turn of the century and the antique grape press and farm implements in the basement. Take a tour of our small oliara (where the olive oil is stored) and the Roman walls and cistern beneath the house. If you visit the Casale in October, you can help the crew pick grapes or olives, join in the end-of-harvest "cortesia" party or visit the olive mill to watch the olives get pressed into our own Extra Virgin Olive Oil.
Our 728 Olive Trees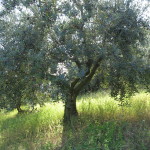 Extra virgin olive oil is like a fine wine. Each year the vintage varies in flavor, texture and aroma depending on several variables such as the weather, amount of rain, location of the trees on the property and when harvested. However, the most important distinguishing feature is of course, the variety of olive cultivars that goes into the tin or bottle. In commercial olive oils, there are monovarietals (one type of olive) and blends (typically a few types of cultivars).
At the Casale, our 728 trees have been planted willy-nilly over the centuries according to no particular plan. There are at least twenty varieties, ranging from a single tree to 193 trees. 82% of the olives are the cultivars Tuscan Leccino, Carboncella, Rociola, Vernina and Frantoio.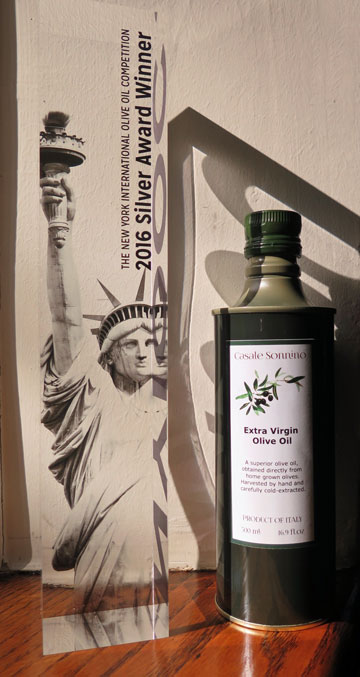 New York International Olive Oil Competition Silver Award Winners
Our Own Extra Virgin Olive Oil
The olive harvest generally starts in the middle of October and lasts two to four weeks depending on the weather and the quantity of olives. Each day beginning at the crack of dawn, our crew hand gathers the olives in nets, removes the leaves and the twigs and crates the haul. Then the olives are transported within 24 hours to a local mill where the olives are pressed by centrifuge (commonly referred to as the first cold pressing), separating the water and sludge from the oil. The resulting liquid gold is the highest quality extra virgin olive oil and 100% delicious. We produce between 600 – 1500 liters annually which amounts to 2 liters or less per tree. It really is a labor of love!
To Order Casale Sonnino Extra Virgin Olive Oil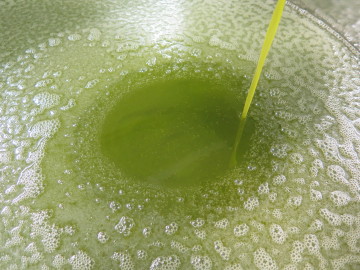 Our own award-winning Casale Sonnino Extra Virgin Olive Oil is exported to the US and is sold it directly to family, friends and "passaparola" – word of mouth. If you are interested in being notified when the most recent harvest arrives and would like to receive a price list, please enter your contact information here: